Terminal Infection 2! Ocean Terminal, Edinburgh, Sat 27th Jan
January 27, 2018 @ 7:00 pm

-

January 28, 2018 @ 1:00 am

£25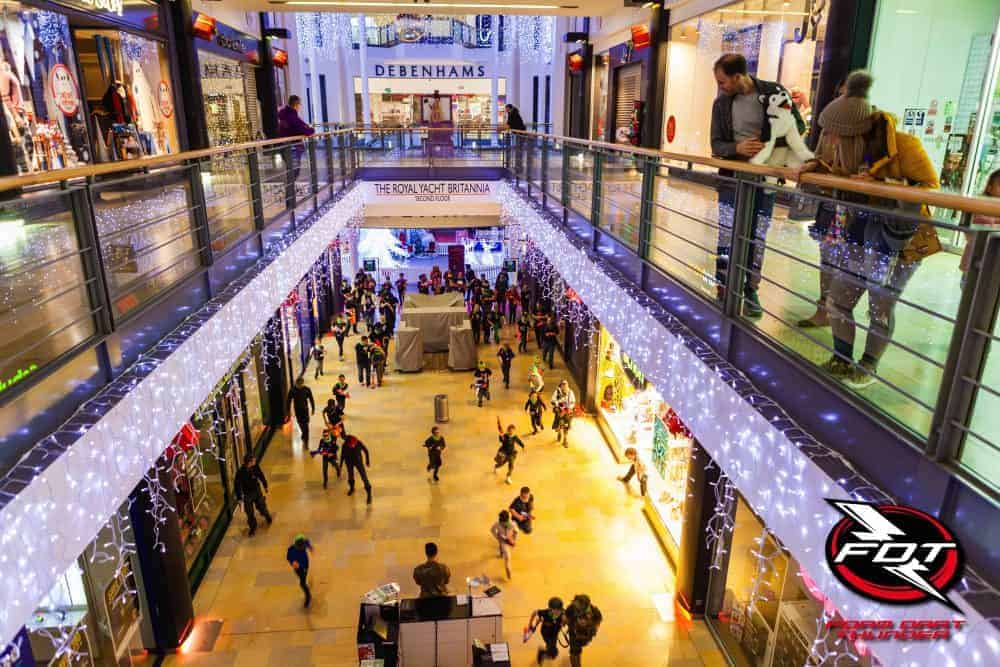 Battle it out, Military v Scientists, in one of Edinburgh's largest shopping centres, across 3 floors in one of the UK's biggest ever Nerf events! With added Zombies!
There will be team and individual games across multi levels, including our new favourite "Flux"!
This event is suitable for everyone aged 8 and over – Mums and Dads are encouraged to join in!
Anyone 14 or under must have an adult on site, either playing or spectating.
Please bring along your blasters and make sure you write your name on all blasters and attachments – anything that belongs to you, write your name on it!
Modded blasters are permitted but the Feet Per Second limit is 100fps Max (not average). We will have a chronometer on site to check any blasters.
We have 15,000 darts for you so please do not bring any. We will also provide Rival rounds so please don't bring any.
NOTE – Nerf MEGAs are welcome – we will not be providing these so please bring your own ammo and ensure they are marked up as yours!
2 sessions:
Dawn Patrol – 20:00 til 22:00 (please arrive and register for 19:30 briefing). THIS SESSION IS COMPLETELY SOLD OUT!
Midnight Shift – 23:00 til 01:00 (please arrive and register for 22:30 briefing).
Tickets only available via the FDT website:
https://www.foamdartthunder.com/shop/
All players must sign a disclaimer either before the event or on arrival before using the park so please allow time for this.
Game scenarios and rules to follow!
For an idea of what you'll need to bring, see our video here:
We look forward to seeing you there!
Notes:
Free parking at South end of Ocean Terminal.
Please enter via one of 2 entrances only: The Boardwalk roller park (from street) or Transgression Park (from multi
storey car park).
Event registration is near the Boardwalk roller park reception/boot hire.
Please ensure ALL Nerf gear and property is marked with your name/initials. Pens are available.
Protective eyewear must be worn by all players.
This event will be video recorded and pictures taken – by purchasing this ticket you have agreed to this.
Tickets cannot be exchanged or refunded after purchase unless the event is cancelled.
Any tickets resold will be cancelled and no refund given.
To save paper, please bring along your downloaded ticket on your phone or mobile device where possible.
We will scan your ticket from your device.
The ticket barcode only allows one entry per scan. Unauthorised duplication of this ticket may prevent admittance.
Foam Dart Thunder, Ocean Terminal and any person associated with the event accept no liability for your personal property.